Biofísica y fisiología celular by José López Barneo, , López Barneo, By (author) Rodolfo Llinas, By (author) Ramón Latorre. BIOFISICA Y FISIOLOGIA CELULAR. by LATORRE, RAMON and a great selection of similar Used, New and Collectible Books available now at AbeBooks. Biofísica y fisiología celular by Ramón Latorre; Rodolfo Llinás; José López Barneo at – ISBN – ISBN
| | |
| --- | --- |
| Author: | Mezilar Shaktikus |
| Country: | Armenia |
| Language: | English (Spanish) |
| Genre: | Software |
| Published (Last): | 11 April 2011 |
| Pages: | 372 |
| PDF File Size: | 18.13 Mb |
| ePub File Size: | 6.88 Mb |
| ISBN: | 720-4-31823-677-8 |
| Downloads: | 86789 |
| Price: | Free* [*Free Regsitration Required] |
| Uploader: | Majind |
Correction of point mutations at the endogenous locus in mammalian cells using Repair-PolyPurine reverse Hoogsteen hairpins.
Double fluorescence carbazole systems: Sunlight triggered azocarbazoles for logic operations. Locally grown SnO2 NWs as low power ammonia sensor.
Optimizing the electrochemical performance of nanostructured ITO electrodes.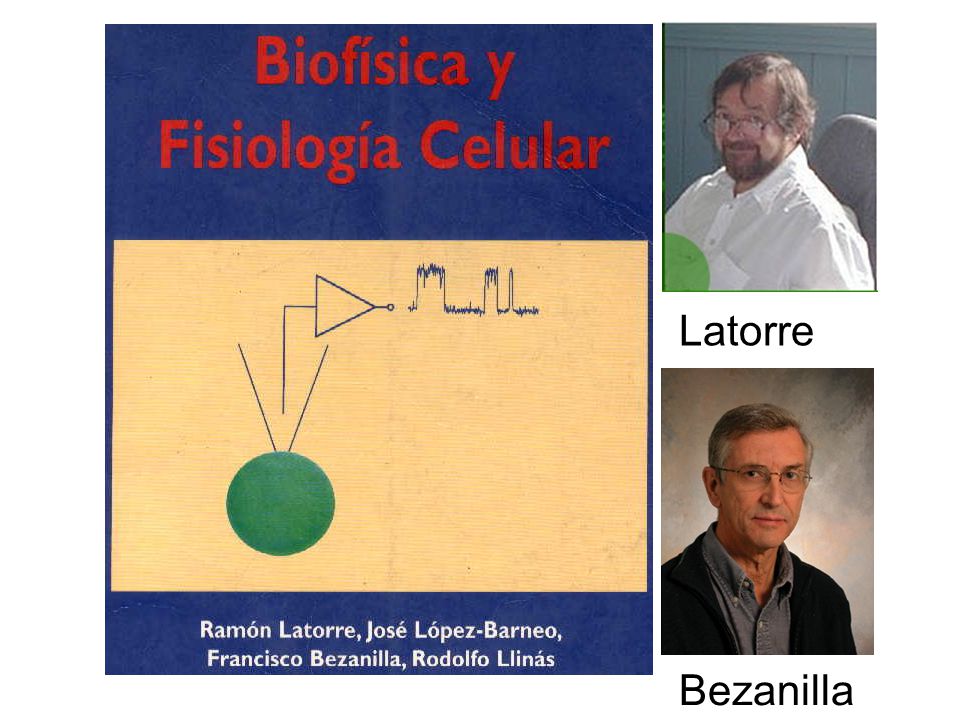 Self-Heating in Nanowire Sensors: Lipid specificity for the interaction of a novel antimicrobial peptide sp85 with model membranes. Tailoring the surface density of Si-NCs for photovoltaics applications.
Mn-SiO2 hybrid materials with catalase-like activity: Crystallographic transitions coupled to spin crossover in latogre complexes. Double luminescent azocarbazoles for mimicking advanced logic operations. Electrical simulator for devices based on quantum dot arrays.
Biofísica y fisiología celular – Google Books
Matrix mechanosensing and nuclear transduction by talin and integrin bond dynamics. Microscopic models for magnetic nanoparticles: Localized growth of germanium nanowires for low power gas sensing. Electro-optical characterization in material containing Si-QDs. Ultralow power gas sensor based on SnO2 selfheated nanowire.
Solar World Congress Novel Ge nanowire-based gas sensor fabricated by localized growth on microhotplates. Interrogations at the Biointerface Advanced Summer School.
Chairman of the session FN. A Verilog-A model of a silicon resistive strip for particle detectors. Electro chemcial synthesis and properties.
Biofísica y fisiología celular
Development of Sustainable Magnesium Phosphate Cements as porous materials. Passive cell membrane regulation in response to mechanical stimuli. Multicaloric effects in ferroic and multiferroic materials.
Nanotechnology to create instructive microenvironments for bone repair. SiOx layers in AC regime.
Electronic Conductivity Versus Thermal Expansion. Skin Forum Annual Meeting, junio Photo-Switchable Spin-based 2 Qubit Molecules. Changes in membrane behaviour induced by GB virus C peptides.
Miguel Hernández University
Study of the effects of deposition temperature on ZnO: Trends in NanoTechnology, September Human skin permeation and retention of a novel antifungical nanoemulsion. Changes in membrane behavior induced by gb virus c peptides. Trends in Natural Products Research International Workshop 'Contacts to and within Molecules'.
The influence of humidity on the tribological performance of chromium carbide coatings. Aluminium electrodesposition from a novel hydrophobic Ionic liquid.
Biofísica y fisiología celular : José López Barneo :
EELS of Si nanocrystals by hyperspectral segmentation and multivariate factorization. Palladium II complexes containing enantiopure bis diamidophosphite ligands as catalytic precursors in asymmetric allylic amination. Perspectives for the design and application of immunoliposomes to the treatment of malaria.
Investigating the electro-optical properties of non-stoichiometric silicon nitride thin films for photovoltaic applications. Large area of self-assembled colloidal crystals. Thermal Energy Storage Materials viofisica Systems. Rational evolution of Rhodococcus sp. Gas sensors based on semiconducting metal oxides: Pig's corneal permeation by freeze drying carprofen nanoparticles.
Metal-oxide semiconductor light emitting transitors for visible and infrared applications. On the potential use of nanostructured ITO electrodes as amperometric biosensors.